APA Leagues
We currently have over 80 APA teams with room for more!
​Double Jeopardy League consists of 5 matches in both 8-ball and 9-ball (point system).
Masters League consist of 3 matches, a race to 7 for each match which total games played would be 13 & consists of
8 Games of 9 ball (no point system) & 5 Games of 8 ball. All games may not have to be played if someone reaches 7 wins prior to the end of the match.
| | | |
| --- | --- | --- |
| Monday | 6pm | Double Jeopardy |
| Tuesday | 6pm | Double Jeopardy |
| Wednesday | 6pm | Masters |
| Thursday | 6pm | Double Jeopardy |
| Friday (Monthly) | 7pm | Aloha |
| Saturday (Monthly) | 4pm | Aloha |
| Saturday (Monthly) | 5pm | Ladies League |
| Sunday | 5pm | Double Jeopardy |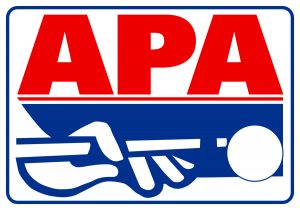 Sign up now by contacting the CT APA Office at (413) 536-3838 or Register Online